Welcome to the Holy Ghost Ukrainian Catholic Church!
If you have come from another parish or from another part of the country, we want you to know that you are welcome to join us in worship where Jesus Himself is our foundation and the Holy Spirit is our guide. It is an honor for us to see that people are seeking a spiritual home in our community.
Our Mission: Let us be a community filled with faith in God, love for our traditions and Church, and love for one another.


Daily Divine Liturgies are celebrated at 9 AM
Weekend Divine Liturgies are celebrated on
Saturday Evening at 6 PM (English)
Sunday Morning at 9:00 AM (Ukrainian) and 11 AM (English & Slavonic)
Changes to this schedule will be annotated on the "Liturgy Schedule" tab.
HOLY GHOST FESTIVAL - JUNE 25th

The Holy Ghost Festival will be held on church grounds and will feature a variety of Ukrainian arts & crafts, Ukrainian vendors, and homemade Ukrainian foods--such as pyrohys (pierogies), halupki, halushky, kielbasa & sauerkraut.
Music and dancing will span the duration of the picnic—including The Golden Tones Polka Band (1:00 – 4:00 PM), and Jeff Bellfy & Company (5:00 – 7 PM).

There will be a Tricky Tray table, raffles and games for all ages.

The event will be held rain or shine.

Click on the flyer to download letter-sized pdf.

PYROHY SALE
Voted "Lehigh Valley's Best Pierogi" by the Lehigh Valley Live staff and judges!

Thank you

f

or all your help, dedication and patronage for making our 2017 pyrohy sales successful! We are taking the Summer off from our monthly sales, but you will be able to purchase pyrohys at the Holy Ghost Festival on June 25th and at the Holy Ghost booth at Easton's Heritage Day on July 9th.
For more information, please click on the pyrohy picture; for future pyrohy sale dates click on the "Event Calendar" tab on the left pane.
Memorial for +Patriarch Lubomyr

A panachyda was celebrated for the repose of the soul of the servant of God Patriarch Lubomyr Husar. Please remember his soul in your kindness and prayers. He was a good and holy man of God who lived his faith and loved his God and church. May his memory be eternal! Vichnaya Pamyat!

PALM SUNDAY / GOOD FRIDAY 2017

Pictures from Palm Sunday and Good Friday in preparation for the Resurrection of Our Lord. Additional photos may be found on Holy Ghost's Facebook page.

CHRISTMAS 2016
A few pictures below from our St. Nicholas Christmas Party, Holy Ghost Church decorated for Christmas, Nativity Compline and Christmas Eve Divine Liturgy. For additional photos, please visit Holy Ghost's Facebook page.







HOLY GHOST TRICKY TRAY 2016

T
hank you to everyone who came to our annual Tricky Tray. We were blessed with a beautiful, sunny afternoon and a great time was had by all. Thank you to Fr. Dan, the hard-working Holy Ghost parishioners, and the many generous businesses who donated prizes and services to the Tricky Tray. Please consider patronizing these fine businesses as a way to say "thank you" for their generosity!

THANK YOU FOR YOUR GENEROUS SUPPORT!
As a result of your generous support purchasing pyrohys at the April pyrohy sale, Holy Ghost was able to donate $1,000 to the Sisters of St. Basil. The proceeds provided vital help for the orphans and victims of war in Ukraine.

The Sisters volunteered at the Catechetical Camps in various regions throughout Ukraine. For additional information on the humanitarian aid provided by the Sisters, please visit their Facebook page or their website: www.stbasils.com


MEMORIAL DAY 2016
As we celebrate with friends, family and community during Memorial Day weekend, Holy Ghost would like to encourage all of us to remember that Memorial Day is dedicated to those Americans who have fallen while serving in our nation's military to preserve our freedoms, our way of life, and our nation.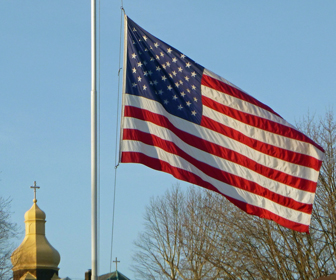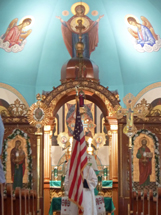 May our Memorial Day include honoring those who have died in the service of our country. May Our Lord grant them rest in the bosom of Abraham and number them among the chosen! May their memory be eternal!
VICHNAYA PAMYAT! ETERNAL MEMORY!

ST. NICHOLAS VISITS HOLY GHOST - 2015

CHRIST IS BORN! GLORIFY HIM!

CHRISTOS RAZHDAYETSHA! SLAVEETE YEHO!

PALM SUNDAY 2015




EASTER EGG HUNT 2015



Holy Ghost Church welcomed the Easter Bunny to spend the afternoon with all the children. All the children and families had a wonderful time at the Easter Egg Hunt on a cool, Spring afternoon. Even Brother Timmy enjoyed collecting his Easter egg, too!






THEOPHANY 2015



The Feast of Theophany celebrates the Baptism of Our Lord in the River Jordan but also the revealing of the Holy Trinity to us, the beginning of Jesus' public life, and also the manifestation of God's glory, of his love for mankind and his mercy and compassion towards us.




CHRISTMAS 2014

The celebratio

n of the Feast of the Birth of Our Lord began with the Vespers Service--including Holy Ghost's catechism class singing Christmas carols while dressed as shepherds, kings and servers--followed by the Divine Liturgy.








ST. NICHOLAS VISITS HOLY GHOST - 2014


ARRIVAL OF THE SHROUD

Upon the arrival of the Shroud, Akafist prayer service is held in Honor of the Sufferings and Death of Our Lord and Savior Jesus Christ.

S

HROUD OF TURIN EXHIBIT


H

oly Ghost Church hosted the Shroud of Turin Exhibit, sponsored by our Archeparchy as a means of exploring the gospel message through the Shroud and opening our doors to evangelizing those seeking Christ.
The Shroud was on display in our church from November 12 - 21, 2014. Please

click on the flyer above to download more information or click on the tab at the top of the page.

WELCOME NEW ALTAR SERVERS

F
ollowing the ceremonial blessing of the cassocks and dalmatics, Holy Ghost Church welcomes our new altar servers including:
Emily Bellfy, Sara Bellfy, Zachary Mattes, Mikayla Mattes, Peter Kaczmar, Phoenix Sidlar, Garrett Stoken, and Parker Stoken
May Our Lord grant them peace and happiness for many years serving Our Lord as helpers of His priests and church community.

Mnohaya I blahaya Lita!

RECYCLING FUNDRAISER
Please help support Holy Ghost Church by bringing in aluminum cans, foil or pie tins and dropping them off at the Church Hall (a large container has been labeled for this purpose).
We also gladly accept copper (e.g., wire, pipe) or brass (e.g., fittings) products that can be recycled.
Thank you for caring and helping to turn your recyclables directly into money for our parish!
This past quarter we were able to turn our 100+ pounds of aluminum cans, foil, trays and scrap steel into a $25 donation to the Church funds. To date, 1000+ pounds of aluminum have been donated for $500+. Thank you, as always!

Visitor Counter: