UKRAINIAN FOOD at HOLY GHOST


Pyrohy or perogies are dough pockets filled with potato, or potato and cheddar cheese, or kapusta (sauerkraut). They are boiled and vaguely resemble Italian ravioli, Polish pierogi, Jewish kreplach, or Chinese wonton. They are often served with onions and sour cream. Mmmmm.

Holy Ghost Church makes pyrohys "in-house" as a fundraiser and a way to bring the parish together for a fun and worthwhile project. The initial "Pyrohy Sale" was held in November 2007 and has been a huge success ever since! Please contact JoAnn Fulmer at 610-509-3155 to place your orders for pyrohys. The cost is $7 per dozen. Thank you for all your help, dedication and patronage!
...and remember, you do not have to be a member of Holy Ghost Church to purchase pyrohys...EVERYONE IS WELCOME!
Holy Ghost Church would like to thank the staff and judges at the Lehigh Valley Live who were responsible for naming Holy Ghost as the winner of the "best perogi in the Lehigh Valley!" The full article can be found here:
http://www.lehighvalleylive.com/entertainment/index.ssf/2016/12/west_easton_church_wins_the_le.html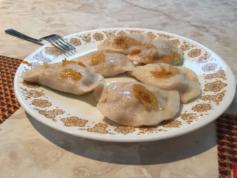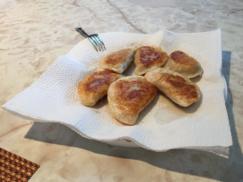 A short photo album is included below from Pyrohy Sales...enjoy!